About Us
Welcome to Pinkbull Estrellas Bulldogs' website,
Thank you for visiting us!
Let me introduce ourselves, Me & my beloved partner, live in a beautiful house, near to Budapest (Hungary) with our sweet dogs. We both love animals since our childhood and we have found our happiness in a very special breed of dog. This special breed is the BULLDOG.
Our first bulldog was a red female Big Sixty Brill or as we called her Pocok. We've just bought her for hobby in 2009, but she was the one with who we entered into the show ring first. We learned a lot thank to her, although our belief is that we should learn till we live.
One year later, we bought an other female, Platinum-Bull Gida Electra. She had very nice show results in 2011, although she was more than 4 years old then. She fulfilled the SrbCH title for the summer of that year. Electra is a wonderful daughter of the famous Ch. Golucan Cole-Belthazor. She is our Queen and she was the first (but not the last) Champion in our kennel.
Our first bulldog male Kupakos Baco di Mano arrived to us on 5th May, 2011 from Kupakos kennel as a birthday gift for myself to my 30th birthday. :)
He is called Dzsebe and achieved HCH. title in 2013. Dzsebe is one beautiful and healthy son of Int.Ch. Erossino of To Love Till Craziness and Int.Ch. Quantanamera of To Love Till Craziness.
Next step of our breeding program, after having 2 litters of healthy puppies was buying Faller-Bull Adél for 2nd kennel founder female. She is daughter of Sotakál André (son of one of our biggest fav bulldog Ch. Sotakál Kimi) and La Grande Grifo Syporka (Ch. Golden-Bull Icon's daughter).
We started to do the health screenings of our dogs in 2012, such as hemivertebrae x-ray, trachea x-ray, patella luxation examination, HUU DNA test, etc., because health and well-being of our dogs are the most important things for us. Naturally, we only want to breed with healthy bulldogs, and one of our aim is to popularize the importance of health screenings in Hungary and worldwide as well.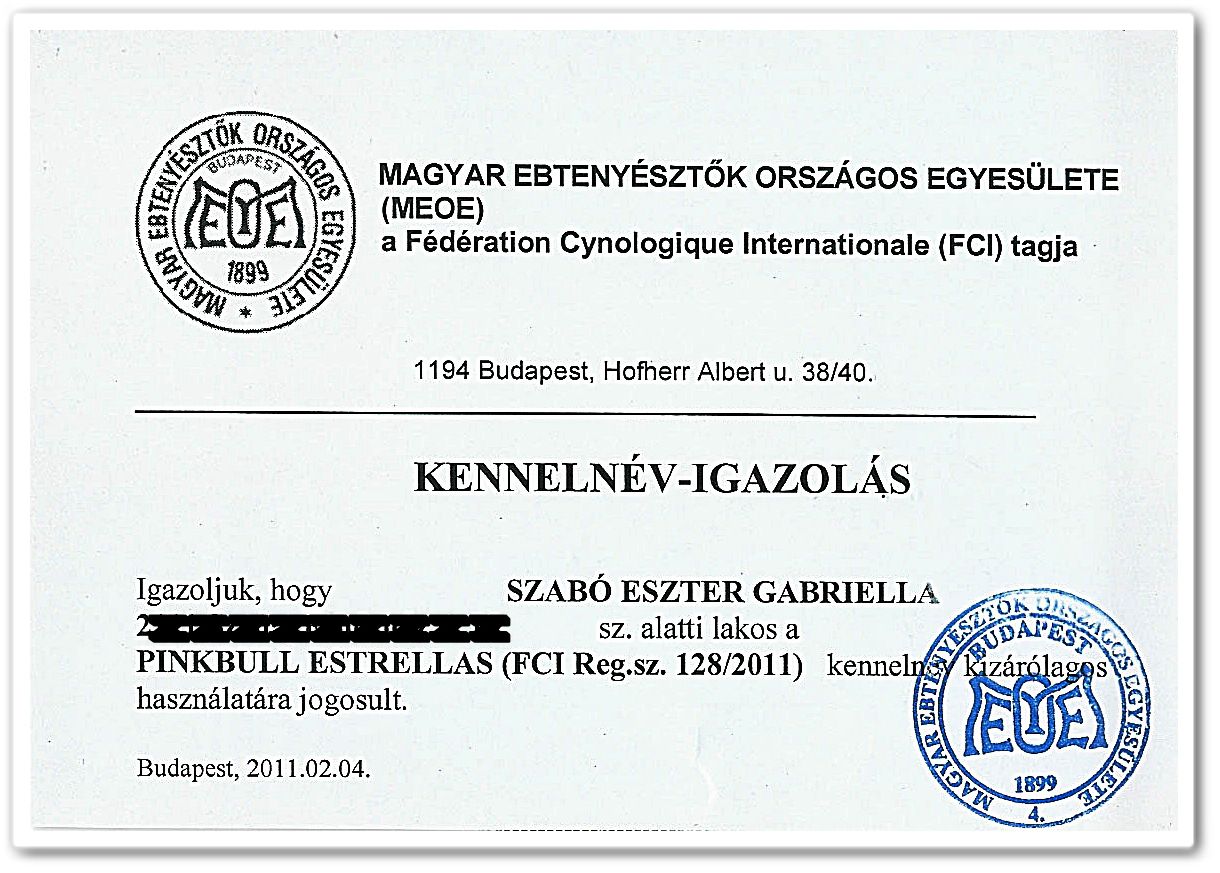 Pinkbull Estrellas kennel has been established with those dogs above and we are working hard on breeding and showing not just beautiful, but also healthy and well balanced bulldogs.
You can find more informations about our dogs in their own menu, about our future plans in the Puppies menu and some nice pictures with the results of course in the Show menu. Hope you enjoy visiting our website and if you have any question or would like to contact us, please don't hesitate to see the options in the Contact us menu. Thank you very much!
We are looking for the next years with big plans and full of hopes.
See you on dog shows!
Greetings from Eszter, Tibor & Pinkbull Estrellas Bulldogs